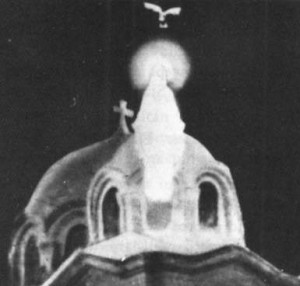 In 1968 in Egypt, Our Lady, Mary Mother of God, appeared in Zeitoun, a suburb of Cairo, Egypt, atop St. Mary's Coptic Church.  This church is dedicated to the Holy Family, which by tradition is known as the place where the Holy Family rested on their escape from King Herod. 
The Coptic Church celebrates 32 feast days in honor of the Blessed Virgin Mary. The last feast day is April 2nd and she is commemorated under the title of Our Lady of Light.  It was on April 2nd that these apparitions began and she always appeared bathed in light.
These apparitions lasted for nearly three years and occurred about two or three times a week, most frequently on feast days and lasting from a few minutes to several hours and were witnessed by about 40 million people of all faith and those of no faith at all.  They usually took place at night and often she was accompanied by luminous white doves that hovered over her.  Often holding an olive branch or sometimes a cross, Our Lady was seen moving among the domes of the church.  At other times, she was bowing before a cross, or blessing the people below.
The apparitions were recorded by numerous photographers, professionals and amateurs alike and also by Egyptian Television itself.  Among those who witnessed these apparitions was then President Abdul-Nasser, an avowed Marxist.  At first some thought this to be some fantastic hoax and the police was sent to investigate.  A 15-mile radius around the site was examined to try and uncover what was causing these lights, but nothing unusual was found.  Her appearance was always public and was witnessed by all people present, believers and unbelievers alike.
There were numerous miraculous healings that took place during this time, which were documented by many medical professionals and were attributed to Our Lady's apparitions.  Dr. Venice Khalil, an eyewitness to the apparitions expresses her confirmation of the events:  "I am a Doctor, and what I have seen in Zeitoun, I believe.  I cannot explain it through medicine or science, but there were a great number of miracles of healings and conversion of faith." On the first apparition which took place at 8:30 p.m. on Tuesday April 2nd, Our Lady appeared on the dome of the Church in a kneeling position, surrounded by light. The first person who saw her was Farouk Mohammed Atwa, a Muslim, and he was due to be operated on for gangrene.  The next day when he went to the hospital for his planned surgery, he was declared completely healed!
The Orthodox Patriarch, Kyrillos VI, formed a commission to investigate the apparitions and concluded that the Virgin Mary did appear at Zeitoun atop the Coptic Church bearing her name.  Those who conducted the investigation observed the figure of a woman surrounded by a "radiant globe of light and accompanied by doves of light" and also observed plumes of fragrant incense.  Moslems, who saw the apparitions, started chanting the Koran's verse which refers to Our Lady "Mary, God has chosen you, He has purified you, He has chosen you among all women".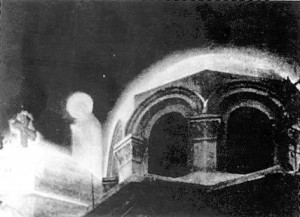 Although no words were spoken by Our Blessed Mother, she imparted a powerful message.  Hers was a message of peace and true concern for all her children, Christians and non-Christians alike.
Our Lady of Light: Apparitions of Mary at Zeitoun, Egypt

,