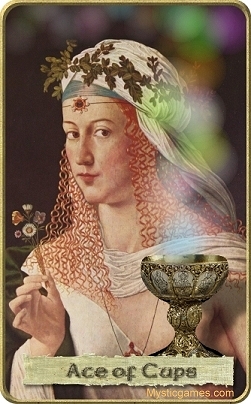 Ace of Cups
The beginning of a relationship, a surge of emotion, joy.
The focal point. Our mutual goal.
This is a time for emotional or creative growth in your relationship, where something you have both been hoping for may come to fruition. This card indicates a new beginning or new perspective on your relationship that will help you discovery each other more profoundly. Previously unfelt emotions are manifesting themselves. This can lead to deep fulfillment extending from joy, gratitude, and satisfaction, to extreme success and the deepest happiness, because love in all its forms stands in the foreground, including self-love, sensual-erotic love, and the love of God.